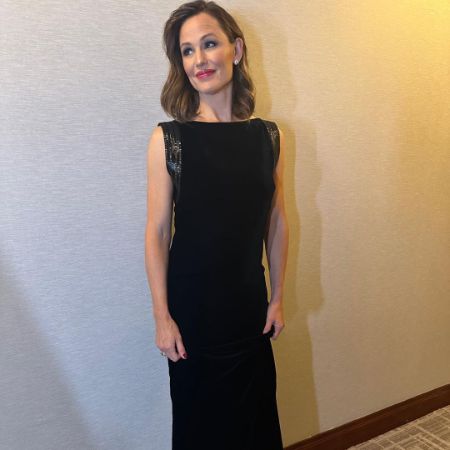 Facts of Jennifer Garner
| | |
| --- | --- |
| Birth Date | April 17,1972 |
| Full Name | Jennifer Anne Garner |
| Other Name | Jen |
| Occupation | Actress |
| Nationality | American |
| Ethnicity | Caucasian |
| Birth City | Houston, Texas |
| Birth Country | USA |
| Father Name | William John Garner |
| Father Occupation | Chemical Engineer |
| Mother Name | Patricia Ann Garner |
| Mother Occupation | Teacher |
| Gender Identity | Female |
| Sexual Orientation | Straight |
| Horoscope | Aries |
| Marital Status | Relation |
| No Of Children | 3 |
| Height | 175 cm |
| Weight | 60 kg |
| Networth | 80000000 |
| Sibilings | Susannah Kay Garner Carpenter and Melissa Garner Wylie |
| Education | Degree in Theatre from Denison University |
| Hobbies | cooking, gardening, hiking |
| Awards | 2006 Winner People's Choice Award, 2018 Winner Star on the Walk of Fame |
| Filmography | Alias, 13 Going on 30, Deadpool 3 |
| Facebook Link | |
| Insta Link | |
Jennifer Garner, the talented actress known for her role as Elektra in Marvel, is set to make a spectacular comeback in "Deadpool 3." While she gained fame within the Marvel universe, she is also renowned for her exceptional portrayal of Sydney Bristow in the beloved "Alias".
Born on April 17, 1972, in Houston, Texas, USA, Garner stands tall at 5′ 9″ (175 cm) and maintains a weight of approximately 60 kg (132 lbs). With her impressive acting skills and captivating screen presence, fans are eagerly awaiting her return to the big screen in "Deadpool 3."
Relationship Status
As of the latest updates, Jennifer Garner is in a relationship with businessman John Miller. The couple started dating back in 2018 and has been keeping their romance low-key and private. He is the CEO of CaliGroup, a successful company.
However, like any relationship, Garner and Miller faced some challenges, and in March 2021, they decided to go their separate ways. However, love found its way back, and after a few months of being apart, they patched things up and rekindled their love.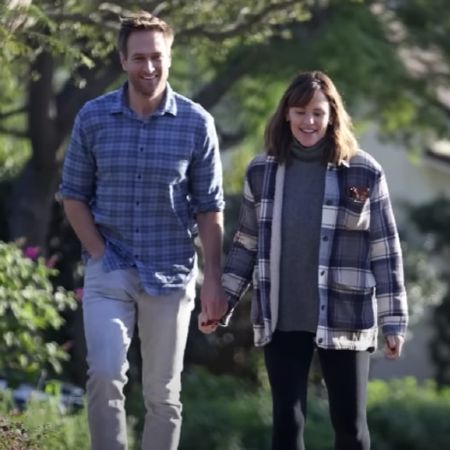 Before Garner's relationship with John Miller, she was previously married to actor Ben Affleck. They tied the knot on June 29, 2005, but unfortunately, their marriage came to an end, and they got divorced on November 7, 2018. Interestingly, the actress had already started dating the businessman before her divorce from Ben was finalized.
Before her marriage with Affleck, Garner was also married to actor Scott Foley. They got married on October 19, 2000, but their marriage ended, and they got divorced on March 30, 2004. Despite going through some ups and downs in her personal life, she has always maintained a dignified and positive attitude.
Net Worth Of The Actress
Jennifer Garner's net worth is an impressive $80 million, primarily earned through her acting career. Her salaries for "Alias" ranged from $45,000 to $150,000 US per episode during different seasons. She also earned $7 Million for "The Kingdom" and $3 Million for "13 Going on 30."
In addition to her successful acting career, Garner is a savvy businesswoman. She co-founded the organic baby food company Once Upon a Farm and currently serves as its chief brand officer. The company started with less than a million dollars in consumption in its first year and quickly soared to a staggering $100 million within just five years.
In terms of her assets, Garner lives in a beautiful home located in Brentwood Park, which is estimated to be worth $7.9 million. Her choice of transportation includes a Subaru Ascent, a practical and family-friendly car, as well as the luxury and sophistication of a BMW 7 Series.
Garner's Work On Marvel
Garner's involvement with Marvel began with her portrayal of Elektra Natchios in the 2003 movie "Daredevil" as a supporting character. Her character garnered attention, leading to a spin-off movie dedicated solely to her, named after her character, "Elektra," released in 2005.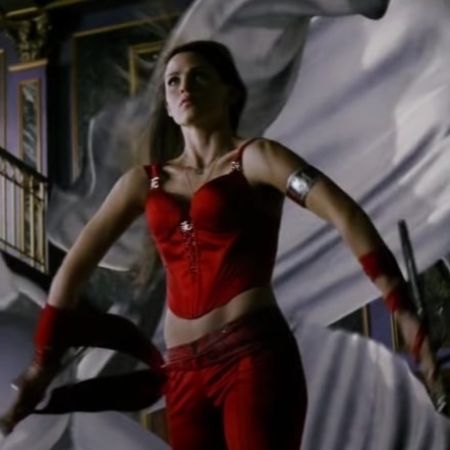 However, both "Daredevil" and "Elektra" received disappointing reviews and were poorly rated by critics and audiences alike. Despite Garner's efforts and dedication to the roles, the movies failed to live up to expectations. While the reception was disheartening, her talent and versatility as an actress were not in question, and she continued to thrive in other projects.
A Bit About Elektra Natchios
Elektra Natchios is a complex character in the Marvel Universe. She is not only an assassin but also has a romantic connection with Matt Murdock, also known as Daredevil. Her tragic past includes the loss of her father, Nikolas Natchios, who was killed by Bullseye.
Devastated and seeking vengeance, Elektra held Daredevil responsible for her father's death and set out to kill him. However, she later discovered the truth that it was Bullseye who was responsible for her father's murder.
This revelation led to a confrontation between Elektra and Bullseye, resulting in a horrifying injury where he slit half of her throat. Despite her death, her former trainer, Stick, brought her back to life through mysterious means. He then trained Garner's character extensively in hand-to-hand combat and martial arts, transforming her into an even deadlier force.
Garner Is In Deadpool 3
Garner's return as Elektra in "Deadpool 3" is generating a lot of excitement among fans. After nearly two decades, she will reprise the role of the skilled assassin, but details about her character and storyline remain tightly under wraps as mentioned in an article from Empire.
It's intriguing to see how the Deadpool team managed to convince Garner to take on the role again after such a long hiatus. Interestingly, She has collaborated with Ryan Reynolds (Deadpool himself) before in "The Adam Project," making their on-screen reunion even more anticipated.
Moreover, the movie promises another thrilling surprise, as the legendary Hugh Jackman is set to make a comeback as Wolverine. With such an impressive lineup of talent and the comedic brilliance of Reynolds, fans are eagerly waiting to witness this star-studded Marvel extravaganza.
Struggled With Elektra's Costume
Playing Elektra in the tight and revealing costume was a challenging experience for Jennifer Garner. She openly talked about her struggles with the wardrobe, especially the leather pants that required her to be cut out and sewn into them every time she needed to use the restroom, making it a time-consuming task.
The costume also included multiple chicken cutlet fake breasts to achieve Elektra's look, but it was not the most comfortable or secure setup. With three fake breasts on each side of different sizes, everything had to be pushed up and out to match the character's appearance.
Garner admitted that she was constantly on the verge of a wardrobe malfunction and felt that no amount of tape could make it safe. Despite the challenges, she persevered and delivered a performance, showcasing her professionalism and dedication to her craft.
Met Her Future Husband Working In A Marvel Film
Jennifer Garner's love story with her now ex-husband, Ben Affleck, began on the set of the 2003 Marvel film, "Daredevil," where he portrayed the iconic character, Matt Murdock, aka Daredevil. Their chemistry and connection on-screen soon blossomed into a close friendship off-screen.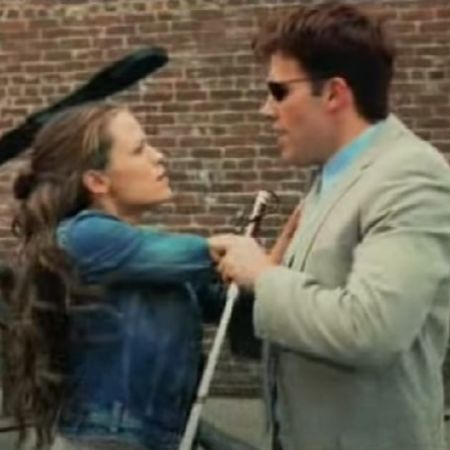 By the summer of 2004, Garner and Affleck's bond had evolved into a romantic relationship, and they began dating. Interestingly, they had first met on the set of the movie "Pearl Harbor," but it wasn't until they collaborated on "Daredevil" that they truly connected.
Garner and Affleck's love story captured the hearts of many fans, and they got married on June 29, 2005. Unfortunately, like many relationships, theirs faced challenges, and they eventually decided to part ways and got divorced. Despite their divorce, they remain devoted co-parents to their children, emphasizing the importance of family and their commitment to their roles as parents.
Garner Wasn't A Fan Of Elektra
Garner's portrayal of Elektra in the movie didn't quite sit well with her. According to actor Michael Vartan, she expressed her dislike for the film, admitting that she considered it to be awful. It seems that she took on the role out of contractual obligations related to her previous appearance as the character in "Daredevil."
Unfortunately, the movie's reception was less than stellar, and Garner didn't receive the acclaim or success that she had experienced in the late 1990s and early 2000s as mentioned in an article from Far Out Magazine. Despite her disappointment with the film, her talent, and versatility as an actress remain unquestionable.
Check Out Marvel Bang for more
Updated On Sat Aug 12 2023 Published OnSat Aug 12 2023 By Vinay