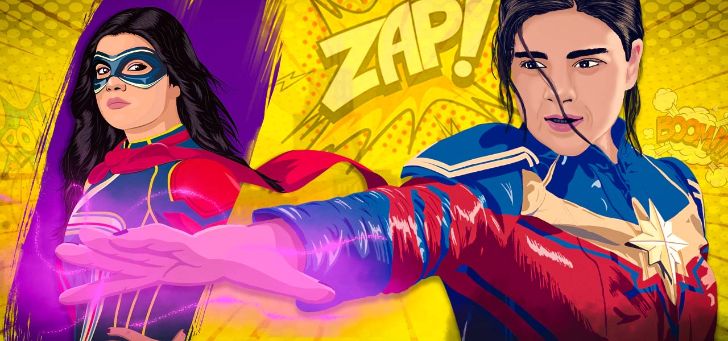 Kamala Khan, also known as Ms. Marvel is a fictional character from Marvel Comics. She is a Muslim Pakistani-American superhero. She is the descendant of Inhumans, one of the many races that the Kree genetically engineered.
Kamala was not aware of her powers. But when she got exposed to Terrigen Mist, she gained the ability to shapeshift.
Kamala has always been a huge fan of the Avengers. Amongst everyone, she got heavily influenced by Carol Danvers who is also known as Captain Marvel. Later, Kamala went on to hold the title of Ms. Marvel.
Kamala Khan Origin
Kamala was born to immigrants, Yusuf Khan and Muneeba Khan. She was born and raised in Jersey City. But her parents and elder brother originally hailed from Karachi, Pakistan.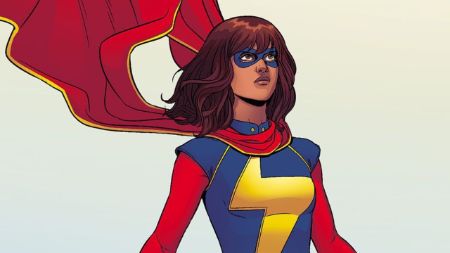 During her childhood days, Kamala crossed paths with Nakia Bahadir and Bruno Carrelli. Later on, she went on to share a strong bond with them. It is fair to say that Kamala found her own comfort with her two best friends.
How did Kamala Khan gain her powers?
One night, Kamala went to a party against her parent's desire. However, she came across Terrigen Mists on her way home. Kamala fainted as soon as she came in contact with the mutation causing vapor.
While Kamala was unconscious, three of her favorite superheroes appeared in her vision. As she could see Captain America, Iron-Man, and Captain Marvel standing before her. The heroes started the conversation by scolding Kamala for going against her parent's wish.
But when the heroes asked her what she wanted in life. She replied that she wanted to be like Captain Marvel. When she gained consciousness, she realized that she had transformed into a younger version of Carol Danvers.
How did Kamala become Ms. Marvel?
Kamala's parents grounded her for going against their request. But when the punishment ended, Kamala went to visit Bruno who was working at a convenience store.
On her way to the store, she witnessed a robbery. Being a superhero fan from a young age, she stepped up to stop the robbery. But in the progress, she gets shot. Then, Kamala gets exposed to her extra powers.
Kamala realized that she had healing power as well. She recovers from the injuries just by shifting to her true form of Kamala Khan. Later, she comes to know that the robber is Bruno's younger brother, Vick. He had been working with someone named Inventor.
Kamala goes for self-training to develop her powers and even creates a costume. And eventually, she rescues Vick from the bad guys. After that, she makes a promise to protect Jersey City as Ms. Marvel.
Ms. Marvel and Moon Knight
Ms. Marvel and Moon Knight have already made their debut in Marvel Cinematic Universe. However, it seems like Ms. Marvel will make her return in Comics. And join forces to Moon Knight to against several villains.
Kamala Khan, aka Ms. Marvel in MCU
In MCU, Ms. Marvel is a mutant-human hybrid with a Clandestine origin. Just like the comics, Kamala is a huge fan of the Avengers in the MCU as well. She has always been a fan of Captain Marvel.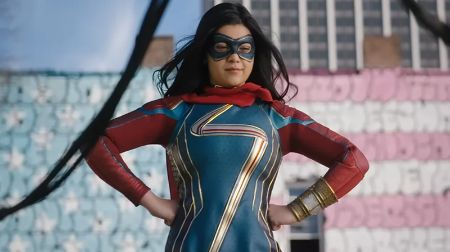 For being the descendant of Aisha and having mutant genes, Kamala is born with super powers. She did not realize her powers until she gets a mystical bangle. After wearing the bangle, she managed to harness her abilities and become a superhero named Night Light in Jersey City.
Did Kamala gain her powers after wearing the Bangle?
Kamala was not aware of her powers before putting on the bangle. Because of this, she thought that the bangle provided her with the powers.
But later on, Kamala realized that she was the descendant of Aisha and she had mutant genes. This means she had powers way before wearing the bangle.
Appearance in MCU
Ms. Marvel is one of the recent addition to the Marvel Cinematic Universe. Within such a short period of time, she has been able to gain love and praise from the audience as well as the critics.
No doubt, there is a huge future ahead for Ms. Marvel. She will definitely appear in more MCU projects in the future. As of now, it's confirmed that we will be seeing her in the movie, "The Marvels".
Fan of Avengers
From her childhood, Kamala is obsessed with the Avengers especially Carol Danvers, Captain Marvel. Like every other normal teenager, she has decorated her room with artworks of Danvers.
Kamala started her own YouTube channel using her imagination and inspiration. She even mentioned Scott Lang's podcast, through which she got to know more about Captain Marvel and her contribution.
A Normal Teenager
Like every other teenager, Kamala has the same daily schedule as a normal kid. But there are some restrictions as her parents are very strict.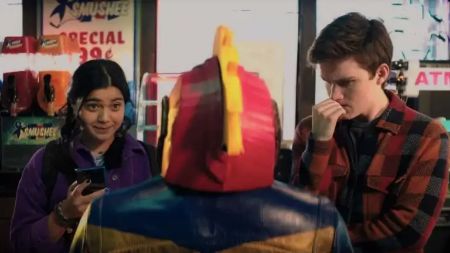 Bruno and Kamala were planning to visit the Avengers Cosplay. Bruno even provided a cosplay costume. But before that, they had to get permission from Kamala's parents.
Finding her Grandmother's Bangle
While Kamala's mother was trying to put away a box full of junk, Kamala looked through it. In the box, she found a bangle.
Upon questioning, Kamala's mother grabbed it from her hand and told her brother, Aamir to put it in an attic.
Getting her hands on the Bangle
When Kamala asked for permission to attend the cosplay, her parents didn't allow her. She got disappointed, but the next day, she came up with a plan.
After meeting with Bruno, she explained her plan. Bruno agreed but reminded her to include something that represented her.
Kamala remembered the bangle that her grandmother sent. And after reaching home, she went to the attic. In one of the boxes, she managed to find the bangle.
Meet the Night Light
According to her plan, Kamala sneaks out of the house to attend the AvengerCon. When it was time for the competition, she dressed up in her costume and puts on the bangle. But as soon as she wore it, she felt a different kind of energy.
Kamala got confused and later, she started using powers that were generated from her hand. She gets the limelight but an incident takes place in which Zoe Zimmer nearly falls & loses her life. But, Kamala saves her with her stretching powers. Then, she just flees away with her partner, Bruno.
After that incident, the cosplay girl who saved people's life that night becomes viral. And, she is given the name of the Night Light.
Bonding with Kamran
With approval from her mother, Kamala went to Zoe Zimmer's party. At the party, she came across Kamran. Two of them then start to spend time and get to know each other. And, Kamran even takes Kamala on a ride in his car.
Eid Mubarak
During Eid, everyone attended a program organized on that day. At that moment, one kid climbs up the tower to get a selfie. The child slips up and hangs on a window as he screams for help.
Seeing that, Kamala steps up to save that kid. She puts on her costume and goes forward to save the kid. However, she gets distracted by a vision while saving the kid. But, somehow she manages to help the kid but does fall off from height.
Meeting the Clandestine
After saving the kid, Kamala tries to escape, but she gets ambushed by Damage Control. While running away from the drones, Kamran appears in a car.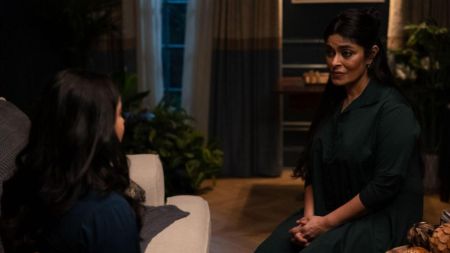 When Kamala jumps into the car, she gets greeted by Najma, Kamran's mother. Najma happens to be the leader of Clandestine. Later, she meets everyone from Clandestine and comes to know about her descendant.
Aamir's Wedding
Everyone shares a good moment during Aamir's wedding. While Bruno and Kamala were about to dance together, Kamran shows up and warns about his mother.
Kamran tells Kamala to run as her mother wants to abduct and use her powers. To make sure that everyone is safe, she pulls the emergency button and ends up ruining her brother's wedding.
Traveling to Pakistan
After managing to escape from the Clandestine, Kamala returns home. Upon questioning, she doesn't share anything with her family.
While Kamala starts thinking about all those incidents that occur, she receives a phone call from her grandmother, Sana. She invites Kamala and her mother to Pakistan.
Later, both of them travel to Pakistan where Kamala gets reunited with her relatives and grandmother.
Meeting the Red Dagger
To find out about the vision of a train, Kamala sets out to find a train station. While doing so, she comes across Kareem, the Red Dagger member.
Both of them start fighting each other but when the cops arrive, they escape together. Later, Kareem takes Kamala to a place where she gets to meet Waleed, the leader of the Red Daggers.
The Clandestine Arrives
While sharing a brief conversation with each other, the Clandestine arrive in the building. Kareem and Kamala manage to escape.
But while fighting them, Waleed gets killed. The Clandestine keep pursuing Kamala. And, all of them get into a heated fight with each other.
Time Travel
During the fight, Kamala used her bangle to stop all the attacks. While doing so, she travels to a different timeline.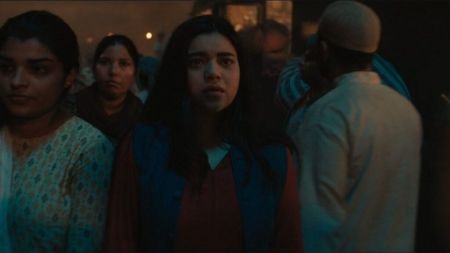 During the time travel, Kamala comes across Aisha, her great grandmother. She found her in a dying state. While having a conversation, Aisha instructs Kamala to hand Sana to Hasan, Aisha's husband.
Destined for Saving Her Family
After doing what her great-grandmother told her, Kamala returned to the present timeline. Upon returning, a portal opened through which the Clandestine could return back to their home.
But while walking into the portal, all the clandestine gets burned to ashes. And, Najma walks into the portal but while doing so, her powers are transferred to her son, Kamran.
Revealing True Identity to Rest of the Family
After returning to the United States, Kamala stood in front of every member of her family. She then revealed her identity as the superhuman.
Everyone acted as if they were surprised but actually, everyone already knew about this. Her mother had told everything even before they returned to Jersey City.
Helping Kamran
After knowing about Kamran and Bruno, Kamala visits them. To hide from Damage Control, they go into the school and make a plan.
During the process, Zoe and Aamir join them as well. They come up with a plan and execute it accordingly.
The Birth of Ms. Marvel
After managing to save Kamran, Kamala spends quality time with her father. During the conversation, they talk about her name.
Kamala shares that she doesn't know what she should be called. But her father shares that Kamal means Marvel and because of this, he calls her "Ms. Marvel".
Ms. Marvel's Ability
Leadership Quality
Shapeshifting Ability
Master in Acrobats
Superhuman Strength
Ms. Marvel's Equipment
Ms. Marvel Costume
Ancient Bangle
Who portrays the role of Ms. Marvel in MCU?
Iman Vellani portrays the role of Kamala Khan, aka Ms. Marvel in MCU. With Ms. Marvel, Vellani made her acting debut.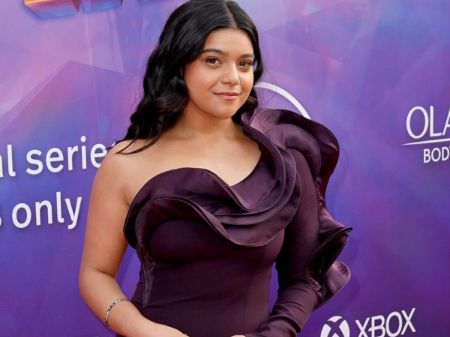 As per reports, Vellani is set to make her appearance in The Marvels which will release in 2023. Kamala has a huge future ahead of her and no doubt, she will be a big part of future MCU projects.