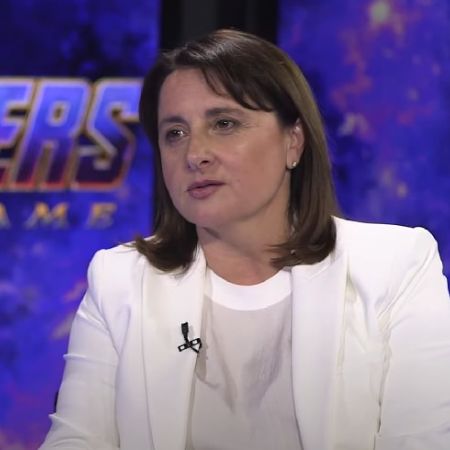 Facts of Victoria Alonso
| | |
| --- | --- |
| Birth Date | December 22,1965 |
| Full Name | Victoria Alonso |
| Occupation | Producer |
| Nationality | Argentinian |
| Birth City | La Plata, Buenos Aires |
| Birth Country | Argentina |
| Gender Identity | Other |
| Sexual Orientation | Homosexual |
| Horoscope | Capricorn |
| Marital Status | Married |
| Spouse | Imelda Corcoran |
| No Of Children | 1 |
| Height | 166 cm |
| Weight | 52 kg |
| Networth | 5000000 |
| Education | Studied Psychology and Theater |
| Awards | 2021 Outfest Legacy Awards, 2020 Motion Picture Sound Editors Award |
| Filmography | Avengers: Endgame, Iron Man, Guardians of the Galaxy |
| Insta Link | |
Victoria Alonso is a highly accomplished individual in the world of filmmaking. She previously held the position of EVP of Production at Marvel Studios. Not just that, she also had the role of President of Physical and Post Production, Visual Effects, and Animation at Marvel Studios.
Born on December 22, 1965, Alonso has worked as an executive producer on the MCU. She has worked on popular movies and TV shows, like "Iron Man/" "Avengers: End Game," "Hawkeye," and "Guardians of the Galaxy."
Married To Actress Imelda Corcoran
Victoria Alonso, the talented executive producer from the Marvel Cinematic Universe, has something interesting in her personal life too. She's married to actress Imelda Corcoran.
But when it comes to their married life, both Alonso and Corcoran like to keep things pretty private. We don't know a whole lot about it because they choose to keep it that way.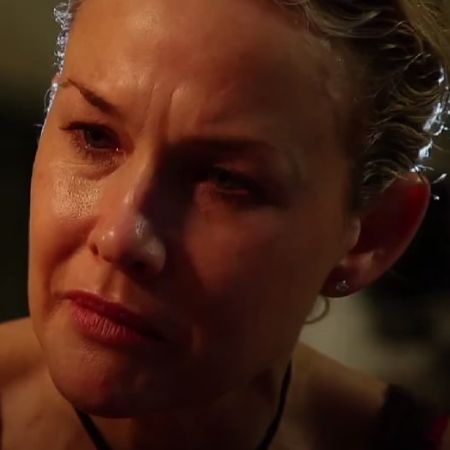 Who Is Alonso's Wife, Corcoran?
Imelda Corcoran is a multi-talented person. She's not just an actress; she's also a designer. And guess what? She's worked on some Marvel projects too!
Corcoran has had her moment in the Marvel spotlight. She made an appearance in an episode of "The Falcon and the Winter Soldier." Plus, she played the role of Dr. Goodman in "Agents of S.H.I.E.L.D.," which is another well-liked Marvel show.
Have A Daughter
Alonso has a daughter named Olivia Alonso. She was born around the year 2010. The producer and her partner, Corcoran adopted their daughter from Chicago.
Alonso has been very private about Olivia and hasn't shared much about their daughter with the media. She and Imelda believe in protecting their daughter's privacy and allowing her to grow up. She has been shielded from the spotlight.
Net Worth Of The Producer
Victoria Alonso's got quite a good fortune! Her estimated net worth is around $5 million. She's earned this money mostly by working as a producer, especially with Marvel.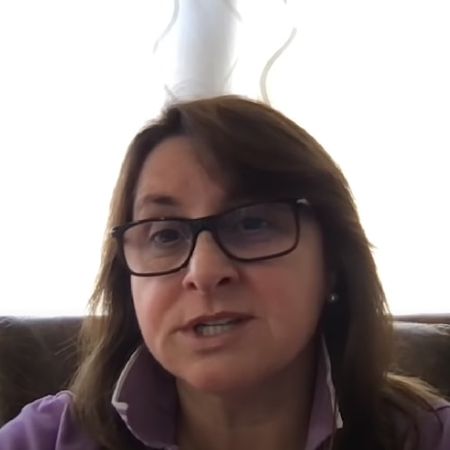 Alonso has worked as an executive producer on some of the absolute biggest Marvel films ever! She was the co-producer of blockbusters like "Avengers: Infinity War" and "Endgame,"
But that's not all – Alonso also had a hand in the very first "Iron Man" movie. Plus, she played a big part in lots of other important stuff in the Marvel Cinematic Universe (MCU) before she moved on. All of these have massively contributed to her net worth.
First Marvel Job
Alonso began her journey with Marvel Studios back in 2006. She started as the chief of visual effects and postproduction. Think of her as the person in charge of all the cool stuff you see in Marvel movies, like the special effects.
Victoria played a vital role in the birth of the Marvel Cinematic Universe (MCU). She was right there as a co-producer for the very first movie that kicked it all off, "Iron Man," as mentioned in an article from Forbes.
The Argentinian continued to make a big impact as a co-producer on several other superhero films. She lent her expertise to "Iron Man 2," "Thor," and "Captain America: The First Avenger."
What Was Alonso's Work At Marvel?
Victoria Alonso, a well-respected figure in the world of movies, used to be the President in charge of many important things at Marvel Studios. She oversaw the physical production, the special effects, and the cool animations that make Marvel movies so exciting.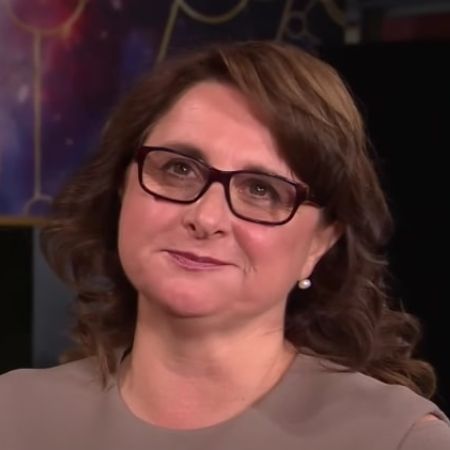 Alonso, once upon a time, held the important position of EVP of Production at Marvel Studios. In this role, she had a big say in how all the Marvel movies got made.
Alonso's work behind the scenes helped bring our favorite superheroes to life. She played a big role in making sure these movies looked amazing and came together just right. It's clear that she made a significant impact on the world of film, and her contributions continue to be celebrated.
Read about other important Marvel people, Kevin Feige and Stan Lee
What Did Alonso Do Before Marvel?
Before her remarkable journey with Marvel, Alonso had an interesting life story. At the young age of 19, she took a big leap by moving to the United States from her home in La Plata, Buenos Aires, Argentina.
Alonso's initial dream was to become an actor. So, she set out on this adventure to pursue that dream. However, along the way, her path led her into the world of visual effects, where she started working on commercials and feature films.
Before Victoria joined Marvel with "Iron Man," she had quite the journey in the world of movies. She worked on a few major feature film projects, as a VFX (Visual Effects) producer. These films included a diverse mix of stories, like "The 6th Day," and even the fun animated movie "Shrek."
Alonso was also part of movies like "Cats & Dogs," "Darkness Falls," "The Core," "Big Fish," "50 First Dates," and "Kingdom of Heaven." Her career wasn't just about visual effects. She also wore the producer hat on "Sordid Lives," as mentioned in an article from Screen Rant.
The Controversial Sacking From Marvel
There has been some surprising news about Victoria Alonso recently. It appears that she has left her position at Marvel after 17 years, but the exact reason isn't entirely clear at the moment. It's a bit of a mystery because there are different stories and conflicting reports about what happened.
One of the first news we heard about why Alonso was fired was related to a breach of contract. It seems to have been related to her involvement in producing a film called "Argentina, 1985" for Amazon Studios, the production company seen as a competitor of Disney.
Conflicting Reports
However, other reports soon came suggesting that Alonso wasn't let go immediately after she worked on "Argentina, 1985." Instead, it was said that she was offered a new employment agreement, with the condition that she should stop promoting the film which she didn't do.
Alonso's situation took another surprising turn when her attorney, Patty Glaser, spoke out about her departure. Glaser asserted that she dared to voice criticism against Disney but was ultimately silenced.
Glaser also mentioned that Victoria was let go because she refused to go along with something she strongly disagreed with. The words indicate that this departure from Disney and Marvel was not just about business, but also about principles and beliefs. Only time will tell who is right.
Why Was Alonso A Dislike Figure?
It's worth noting that Alonso's time at Marvel Studios wasn't without controversy. Some reports have surfaced suggesting that she was a polarizing figure and faced criticism for allegedly contributing to a toxic work environment at the company.
After the monumental "Avengers: Endgame," Marvel faced its share of criticism from its fans. One common critique centered around the quality of the CGI with viewers. People have blamed Alonso for creating an environment that might have put pressure on the VFX artists.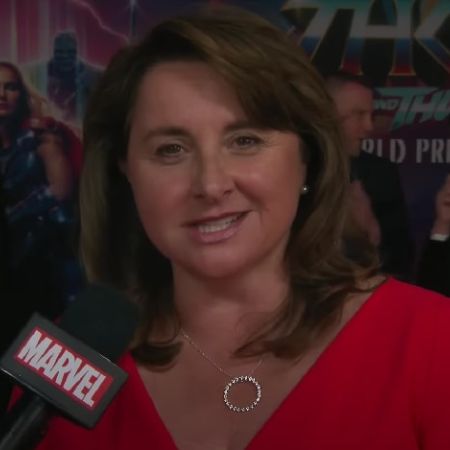 There's a Vancouver-based tech professional who made a strong statement by declaring that they'll never work for Marvel. Alonso has gained a reputation in the industry as a "kingmaker," meaning that her opinion carries a lot of weight.
The claim was that If Alonso happens to be on your side and appreciates your skills, it can open doors to exciting job opportunities. On the flip side, if you happen to rub the Argentinian the wrong way or upset her in any manner, it can have a chilling effect on your professional journey.
Check Out Marvel Bang for more
Updated On Thu Sep 14 2023 Published OnThu Sep 14 2023 By Vinay